High Tea at HBYC leads off PPWCS 2017-18
by Rosie Colahan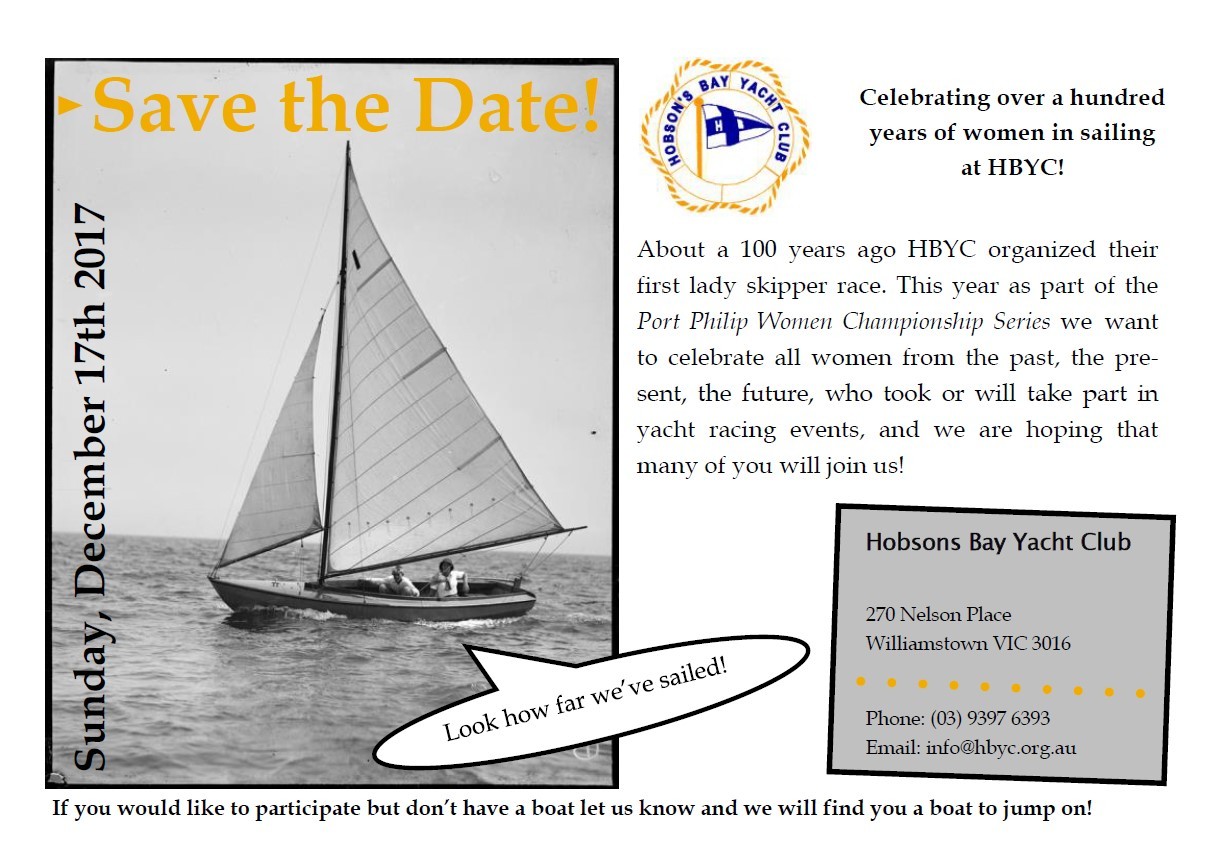 Port Phillip Women's Championship Series (PPWCS) 2017-18 makes an early entrance on Sunday 17 Dec 2017 for its sixth edition, with Hobson's Bay Yacht Club (HBYC) leading off with the theme 'Look how far we have come' to celebrate over 100 years of women in sailing at their club. As the longest standing Lady Skippers race on the bay, the HBYC women sailors are gearing up for a fabulous day of racing with their Shirley Freeman Trophy race and non-spinnaker division Suffragettes Cup, followed by High Tea back at the clubhouse.
The PPWCS is a youngster by comparison. In 2012, the then Yachting Victoria (now Australian Sailing) established the Women & Girls in Sailing Committee (WGIS), charged with increasing female participation and leadership in the sport. By combining the Lady Skippers races for the five keelboat clubs at the top of Port Phillip into a single series, PPWCS was born in 2013 and over the last five years, has provided opportunities for increased participation, camaraderie and competition for female sailors to take up the helm and other key roles, with an average fifty boats each series.
In 2015, the HBYC Lady Skippers race was changed to the Shirley Freeman trophy in honour of their first female senior member and first female keelboat owner who joined the club in 1974. A 'themed' non-spinnaker division was also added to encourage less experienced female sailors to join in and this year is named the Suffragettes Cup – a tribute to those women who have been trailblazers in their time.
International Women's Day (IWD) first started by the Suffragettes in 1911, is now celebrated annually on 8 March with yearly themes driving gender parity through collective action and shared responsibility.
In 2015, the IWD theme 'Step it Up' saw the HBYC girls honour one of their own, in choosing the spirit of a remarkable woman, Shirley Freeman to live on in the history of their club. Her obituary, following her death on 28 December 2014, recalled - 'All her life Shirley had shocking eyesight - but she saw the world more clearly than those blinded by custom and prejudice.'
Shirley Freeman, trained in pharmacology and had an illustrious academic career, with a DSc in pharmacology, acting head of department at Melbourne University and then became the first senior principal research scientist in the Defence Science and Technology Organisation (DSTO). In this position she became an expert adviser to the Department of Foreign Affairs and Trade (DFAT) on early international negotiations towards a Chemical Weapons Disarmament Convention.
Her sailing achievements were no less illustrious. As owner of the Ben Lexcen designed ¾ tonner Pazazz, Shirley won many major trophies including Petersville Regatta (1984) and the Port Phillip Sea Pilots (1992). Her adventurous spirit saw her venture into Bass Strait as the only female ocean racing skipper at that time, competing in five Melbourne to Devonport races, seizing victory in the 1992 event.
Her sailing achievements earned her an Honorary Life Member at HBYC and in 1989, Dr Shirley E Freeman was awarded an AM (Member of the Order of Australia) in recognition of her public service - an extraordinary legacy of leadership, participation and achievement.
Coming to the end of 2017, the year in which IWD encouraged all to be 'Bold for Change' we can reflect and look how far we have come. Be part of the change and join us to continue the history of how far women's sailing has come in Victoria at the '100 plus Years of Women in Sailing celebration with High Tea at HBYC'.
Competitors and their friends and family will be greeted back at the clubhouse to enjoy the view across the bay to the city with a complimentary drink (Pimms punch /Two Birds beer/soft drink) and a dainty afternoon tea served on the lawn.
Presentations are planned to commence at 1400hrs, reflecting on the many achievements for the day and for the years. Port Phillip Women's Championship Series 2017-18 will also be officially launched along with Australian Women's Keelboat Regatta 2018.
For further information, including Race documents and online entry, click here
To assist with catering, please register for the High Tea at $15 per person through Top Yacht entry or email info@hbyc.org.au . Tickets will still be available to purchase at the bar on the day.
Information about Port Phillip Women's Championship 2017-18 can be found on the Women & Girls in Sailing website.
Last Modified on 03/12/2017 21:42